Modec has been a specialist of pneumatic motors since 20 years. Its motors are used for various applications from nuclear shield or automotive to oil and gas or food and beverage industries. Modec is based in south France, but its customers and markets are worldwide. For that reason, digital marketing is crucial for developping the company.
Main challenges: low return on expensive PPC campaigns and poor Organic traffic generation
For a long time, Modec relied on PPC campaigns to generate traffic and leads. At first, it seems to be a good initiative as it was driving visitors to the website and the number of leads generated increased. However, PPC campaigns became more expensive as MODEC competitors start using the same tactic and betting on the same keywords. Plus, on top of the budget increase, lead generated by paid per click campaigns were not qualified. In other terms, PPC campaigns were getting more and more expensive with a customer conversion rate dramatically low.
MODEC was then basing its entire online growth on expensive and low client return PPC campaigns, and, was not considering the importance of the organic traffic: the website was outdated, no SEO strategy in place, poor and mainly product oriented content. This risky equation was putting the company in a tough situation.
Modec Inbound Marketing Growth Story
Focusing first on MODEC biggest challenges and business goals, NILE created an Inbound Gameplan to achieve the lastest as quickly as possible and diminish the risky situation that they were in.
The first month was dedicated to build a solid inbound marketing strategy:
SMART goals and growth plan were confirmed with Bruno, Modec's CMO
With the collaboration of every team at Modec, a precise and exhaustive buyer personas was defined. It is important to note that the buying process can be complex in the manufacturing sector. Therefore, the participation of each Modec stakeholder to define a clear buyer journey for each persona was crucial.
A clear strategy was defined for each persona at each stage of the buyer journey including content offer roadmap, keywords research, client interview, competitors analysis.
Moreover, in the first two months Nile launched Modec's brand new website to support the inbound marketing efforts that were about to be launched. This new website was completely designed upon the persona and the buyer journey work that we undertook with Modec during the first month of our collaboration.
It was great to see how Modec teams got excited when they saw the business opportunities that were laying upon them thanks to this new marketing approach. Moreover, it gave them the confidence that it was the best way to outperform the competition. Every team member was involved from the very beginning and i think it is a key factor of success for the whole inbound strategy we've deployed.
Increase organic traffic with HubSpot and generate more qualified leads
Before working with Nile, Modec wasn't blogging or didn't have any social media presence. By having identified the buyer persona pain points and challenges we were able to define topic that Modec's customers will look for in search engine and therefore target highly effective long tail keywords. Thanks to all the work that we did with persona and buyer journey definition, Nile built an efficient content plan with remarkable content offer and an efficient blogging strategy.
The most urgent goal agreed with Modec was to increase organic traffic to save them from the dangerous "PPC campaigns dependance". Organic traffic is owned, which this is not the case for buyed traffic, acquired from PPC campaigns.
Therefore, We started blogging at a high frequency by interviewing Modec's team members with the aim to positioning Modec as THE expert of pneumatic motors technologies.
Oh, i've forgot to mention that we needed to blog in both French and English language (and very soon in German, Portugese and Spanish).
Those experts blog posts are created on the great Hubspot blogging tool and distributed on twitter, on the company's Linkedin page and on each personal linkedin account of the team via the hubspot social media publishing tool.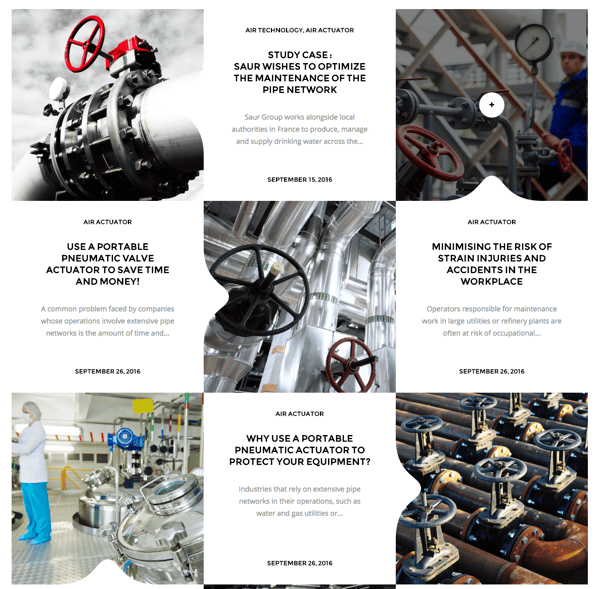 Organic Traffic increased by 1,320 % in 4 months

As you can see on the graph, publishing high quality content and persona centered with a good tool like the HubSpot platform produces great results.
We started with 113 organic visits per month when we launched the blog. 4 months later, organic traffic raised to 1600 visits per month. What can we say ? Inbound Marketing simply works !
Paid traffic part decreased from 52 % of all traffic sources to 23 % of all traffic sources in 4 months
The biggest challenge : How to reduce the investment in paid traffic and not kill the overall traffic generation. We overcome this major roadblock by deploying and effective content plan to drive more organic traffic. Moreover, Modec gradually reduced its investment in PPC. Optimizing PPC budget and increase the return of the PPC investment is part of the mix.
In 4 months, Organic Leads increased by 450 %, from 4 leads per month to 22 leads per month
Last but not least, Modec website generates now more qualified visitors and leads than ever. Doing closed loop reporting with Modec's sales team, enable us to assess the quality of the SQLs and how satisfied each of the sales rep were. Currently, more than 60% of the leads are currently worked on by the sales rep.

To obtain these results, Nile used all the great tools from the Hubspot Marketing platform. In the first four months Nile created for Modec two high value offers for two stage of the buyer persona journey : an awareness guide on air motors use best practices and a customer's success studies offer to show how Modec customer were able achieve their goals.
For each offer, we have created an optimized and efficient conversion path (CTAs, landing pages, thank you email) using HubSpot tools to drive and monitor the campaigns results.
In 4 months, Nile boosted Modec's visibility: website ranked in the top 3 for 133 keywords and in the top 10 for 194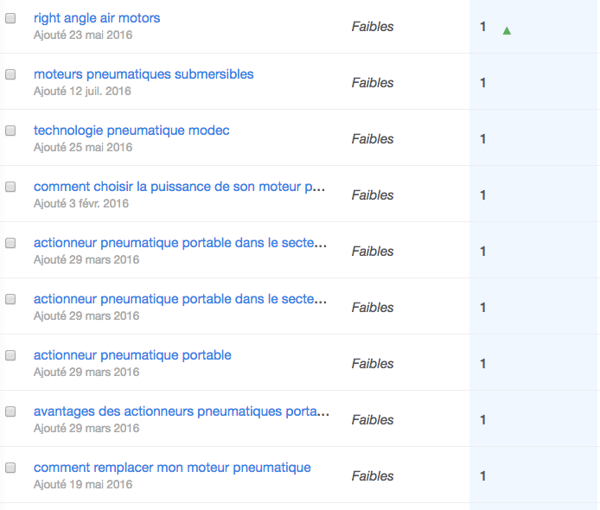 The HubSpot keywords tool helped Nile drive results by monitoring the evolution of each targeted long tail keywords ranking and by knowing for which keywords are Modec's competitors are trying to position themselves. It also gives great informations to better manage PPC campaigns.
What's next ?
Having implemented an inbound marketing methodology at Modec has had a great impact on the overall organisation as it allowed them to undercover growth business roadblocks, to improve their internal processes, communication and alignment.
Generating more qualified leads helped Modec to focus on high value prospects rather than wasting time trying on low qualified lead one. It also had a great impact on the sales organisation overall. As Inbound leads can not be managed with old school methods, the next step for Modec is to go further with the inbound sales methodology, by implement sales processes, align the marketing and the sales team and coach the sales team to efficiently work the qualified leads that Nile has generated for them. Nile has already started to help his customer by training them on using Hubspot Sales Professional platform. But this is another great success story, to be told in a future blog post !